Fredericton South Reliability Project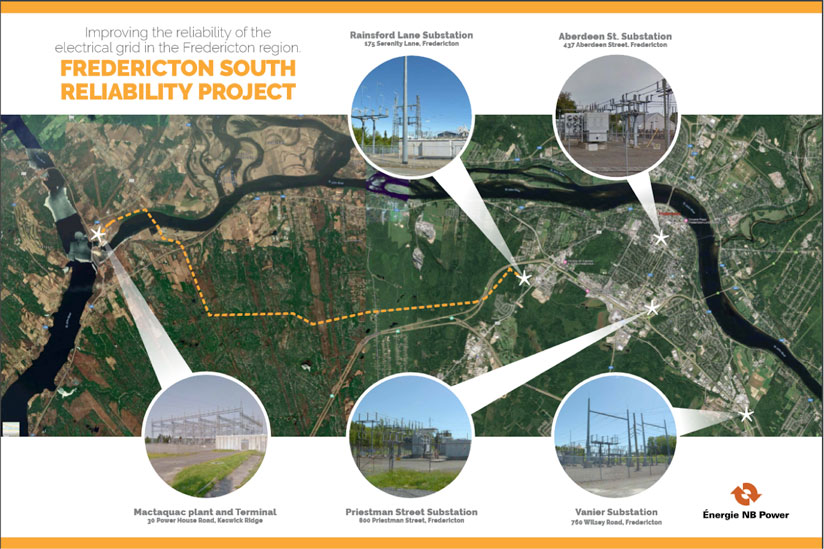 The current Transmission and Distribution configuration leaves Fredericton South customers vulnerable to infrequent power interruptions that may last several hours or days to repair. 
Furthermore, transmission capacity limits NB Power's ability to fully utilise the clean generation from the Mactaquac Dam under certain conditions.  This project will improve transmission capacity and will provide two transmission lines into three key distribution substations in the Fredericton region allowing repairs to a transmission line to be completed with minimal interruption of electricity to customers.
The new line will be constructed adjacent to the existing line within the existing right of way. It will run from the Rainsford Substation (on Rainsford Lane, in Fredericton) to the Mactaquac Terminal.
BENEFITS
Improved reliability for 25,000 customers in Fredericton South with fewer interruptions that can be restored in minutes rather than within hours or days.
Reduced line losses mean less wasted energy – an estimated 11,350 MWh saved annually -which is the equivalent of driving 5000 electric vehicles across Canada.

This will allow for less spillage at the Mactaquac Generating Station, meaning more renewable energy will be available to customers.
Before it can proceed, NB Power must register this proposed project for an Environmental Impact Assessment with the provincial Department of Environment and Local Government.
The Environmental Impact Assessment was submitted in the fall of 2019 and NB Power received the Certificate of Determination under the New Brunswick Environmental Impact Assessment Regulation February 1, 2021. A schedule of work will be provided before construction on the project takes place.