Benefits of EVs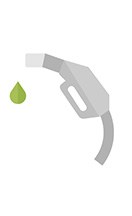 As an EV owner, you can expect:
A smaller environmental footprint with low-emission transportation
Approximately 25% of the cost to fuel with electricity compared to a gas vehicle
Lower operating costs – no tune-ups, no oil changes.
For NB Power, EVs offer future flexible electricity storage which, along with smart chargers, becomes a key component of our smart grid. Electric vehicles represent a great opportunity for customers and NB Power to work together to create a low-carbon future.
Save on fuel costs

The cost of buying a new car isn't just in the price tag. You also need to factor in the cost of ownership.
By fuelling your car with electricity instead of gas, you can save thousands of dollars per year on fuel costs, not to mention the savings on vehicle maintenance.
Average Cost to Drive 100km*
BEV (Battery Electric Vehicle)
$2.85
PHEV (Plug-in Hybrid Electric Vehicle)
$5.42
Compact/Subcompact
$11.34
Mid-Size/Full size
$12.34
*Numbers calculated using NRCan's 2014 Fuel efficiency figures, $1.20 per litre of gasoline and electricity pricing in New Brunswick as of August 1, 2015
Leave a smaller environmental footprint
New Brunswick's cars and trucks burn more than 1.1 billion litres of gasoline each year and emit more than 2.5 million tonnes of carbon dioxide (CO2) into the atmosphere.
Burning fossil fuels reduces air quality and produces greenhouse gas emissions (GHG). Released into our atmosphere, these emissions are contributing to climate change, extreme weather events and health problems.
By switching to an electric car in New Brunswick you can reduce your CO2 emissions by approximately 80%. This is especially true when the electricity used to charge your car's battery comes from low-emitting energy sources, such as nuclear and hydro.
Average Emissions (KG) of CO2/100 KM trip*
BEV (Battery Electric Vehicle)
5.9kg
PHEV (Plug-in Hybrid Electric Vehicle)
10.9kg
Compact/Subcompact
22.2kg
Mid-Size/Full size
24.3kg
*All figures are based on NRCan Fuel Efficiency figures for 2014, assuming 100km of driving
** Based on driving 20,000 km per year, a plug-in hybrid electric vehicle emits approximately 1,400 kg of CO2 compared to more than 5,200 of CO2 emitted from a full size car. A battery electric vehicle emits about 725 kg, compared to approximately 4,200 kg from a compact gas car. Source: Plug 'n Drive
Did you know?
NB Power is committed to a Renewable Portfolio Standard that targets 40 % of in-province electricity sales being provided from renewable energy, and a total of 90% of our electricity generation from non-emitting sources by 2020.
---
Do you have an electric vehicle?